AMG
mini Ion+
Pink and white noise generator and amplifier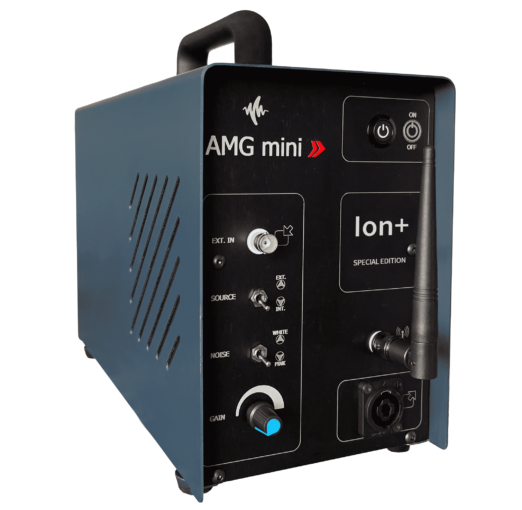 AMG mini Ion+ amplifier and noise generator has been designed to operate at maximum power combined with OMNI series sources and with the DIR slim directional loudspeaker.
Two high-quality power modules are integrated into the instrument. In fact, they correctly amplify and balance the sound energy towards the sources connected to AMG mini Ion+.
AMG mini Ion+ is powered by its integrated rechargeable lithium battery. The amplifier, therefore, requires connection to a power socket exclusively to allow recharging of the internal battery pack.
The pure battery power supply gives the user the freedom and independence of positioning AMG mini Ion+ once he has gone to the measurement site.
For this reason, AMG mini Ion+ can work in total electric autonomy for about 60 consecutive minutes at full signal emission power.
An innovative unified signal for all OMNI series sources and DIR slim has been engineered to simplify the source / dedicated output signal matching. The user will now be free to connect any Ntek-branded source, knowing that the maximum in terms of sound emission will be obtained without having to manually set the correct output signal from the amplifier.
AMG mini Ion+ is equipped with a wireless operating system. It is possible to act on the on/off status of the AMG mini Ion+ using the dedicated remote control.
Furthermore, AMG mini Ion+ comes with the 868 MHz high-performance remote control by default; a feature strived by technicians who operate in non-adjacent environments or in the event of thick partitions.
Download Datasheet
Code
10500
STANDARD EQUIPMENT
Wireless high performances remote control 868 MHz
Antenna
BNC / RCA connector
AC power supply cable 220 V (to recharge)
Optional:
Semi-rigid carrying shoulder bag
Trolley flight case
CONFORMITY LAWS
UNI EN ISO:
3382, 354, 140, 16283
Conform to CE directives
TECHNICAL FEATURES
Dimensions: 140 x 200 x 330 mm
Weight: 5 Kg
Frequency response: 40 Hz – 10 KHz
Battery capacity: 1 hour at full power continuously
Noise generator: White / Pink noise, or through BNC / RCA connector to link alternative external sources required by the user
Channels number: 2 out
Maximum power per channel 4 Ω: 350 W
SNR (Signal to Noise Ratio): >113 dBA
Total Harmonic Distortion THD + N: < 0.05% from 0.1 W at full power (usually < 0.01%)
Intermodulation distortion DIM100: < 0.02% from 0.1 W at full power (usually < 0.005%)
Power factor: cosφ > 0.85 – 4Ω at full power
Short circuit protection
THERMIC FEATURES
Work range: 0° – 40° C / 32° – 104° F
Thermic protection